THERMOPLUS 98
EKU WOODART TT THERMOPLUS 98 is an aluminum-wood window and door system designed and made to meet the world's most demanding energy standards.
Its high energy efficiency characteristics place it in the highest building standards of "PASSIVE HOUSE" and "CASACLIMA CLASS A +".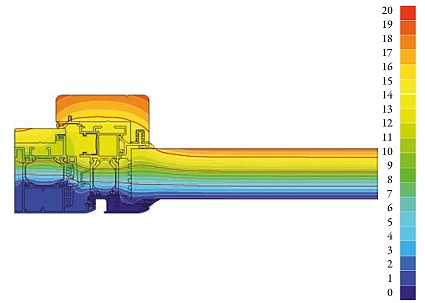 The IMS Institute in Belgrade tested a triple glass package window measuring 1230mm x 1480mm according to European standards, with Ug = 0.56 w / m2K. The frame and sash set measured Uf = 1.26 W / m2K, and the whole window obtained thermal conductivity coefficient of Uw = 0.76 w / m2K.
The outstanding performance of this system is made possible by the advanced technology of the Italian company PROFILATI together with the huge long-term competence of DND PRO, with the help of materials with extremely low thermal conductivity (lambda value) in the form of fillings in aluminum profiles (TEW technology) and elastomers (closed cell PVC technology).
Of course, there are high quality EPDM gaskets and plastic parts from high quality PA66 polyamides from well-known manufacturers.
The inner wooden coverings are of the highest quality oak, ash and various exotic woods, available in wide range of tones and colours, as well as several different designs and profiles - from gentle rounded to more sharp and angular.
In this system, large wide glass packages available range from 24mm to 52mm, and, in addition to the high energy efficiency characteristics, also provide very high sound insulation parameters.
High safety, reliability and protection are ensured by quality fittings of the highest standards.
This discreet, premium, dynamic Italian design offers a powerful, reliable and functional look to meet all possible esthetic and architectural requirements. The combination of wood's elegance and aluminum strength, with high resistance and minimal maintenance, in almost all kinds of typologies and openings, in countless finishes and tones, offer a warmer, brighter atmosphere with natural elegance for your inner space.
This most economical aluminum-wood system is the ideal choice for smart, experienced investors, and recommended by numerous customers in Belgrade, Serbia, EX-YU space and Europe.